This for me is the worst fixture as a Liverpool fan. I hate it when we play in Spain and I hate it when we play Atletico. The next two games are pivotal to where we finish in the group stage. If we leave the Metropolitano with a point it puts us in a great place to win the group, this is easily the biggest game of the year so far for us.
The Line Up
The only surprise really is Fabinho on the bench, the rest of the team is pretty much what I thought. Firmino was always going to start after his hat-trick, but I do expect Jota to come on at some point and show Klopp why he should be starting.
First Half
The first 5 minutes of the game are very cagey, with neither team being able to maintain possession of the ball. Atletico in Atletico fashion have the bus firmly parked ready for a long 90 minutes ahead of them.
8′ GOAL! Mo Salah is unstoppable in his current form. He cuts in from the edge of the box, goes past Carrasco and Lemar with ease, then hits one towards goal, Milner then pokes his foot out and that takes it past the keeper, Liverpool lead 1-0!
13′ It's TWO!! Naby Keita has scored an absolute worldie here. Trent knocks a cross in for it to be cleared to the edge of the box, Naby hits one on the volley with the outside of his foot, and it flies into the top corner. He only scores good goals… 2-0 Liverpool!
15′ Diego Simeone is on the side-line telling his players to calm down, they can't even put 5 passes together at the moment, and every time they lose the ball Liverpool are looking like they're going to score.
The goal has now been awarded as a Salah goal as the ball comes off Kondogbia before going into the net. That makes it 9 games in a row where Mo has found the back of the net, a new Liverpool record.
20′ Atletico's first real chance, and they've gone and scored. They take a short corner and Lemar skips past Keita and knocks the ball low into the box. The ball goes through everyone and makes it to the edge of the box where it's fired back in, for Griezmann to flick the ball into the back of the net. Game on!
27′ Massive chance for Griezmann to make it 2-2. There was shouts for a foul on the edge of the Atletico box as Mane was taken down, ref has none of it and Ateltico counter attack with a long ball over the top which sees Griezmann go 1 on 1 with Alisson. Alisson stands up tall and Griezmann tries to chip him but it goes straight into his chest. What a game we have on our hands.
34′ And there we have it, 2-2 and it's that man Griezmann again. Felix gets past Keita (Who is having bit of a stinker, minus his goal of course) then finds Griezmann on the edge of the box who takes a lovely touch, then guides the ball past Alisson. This is a great game, but I'd love it to finish now.
39′ it's all Atletico now, Felix finds himself in acres of space down the left hand side, manages to get a shot off from a tight angle forcing Alisson to make a good save. It looks like the Liverpool players are waiting for the ref to blow for half time.
The half time whistle goes and it's 2-2. Klopp will not be happy with the performance after going 2-0 up against a team that has lost 1 in their last 40 games at home. The Reds have to be better in the second half if they want to come away from here with anything.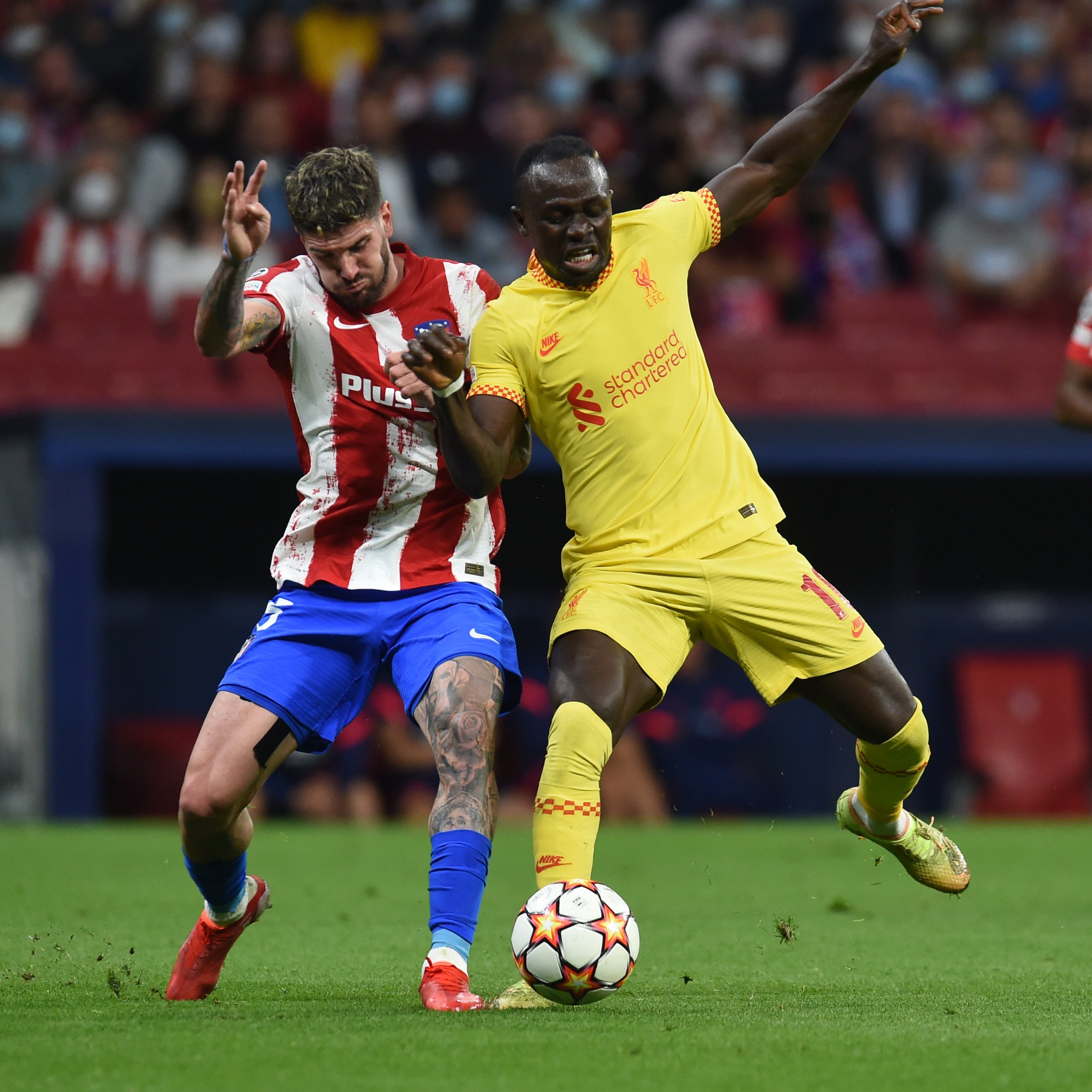 More: https://undraftedthenetwork.com/2021/10/11/klopp-pep-tuchel-who-is-the-best-manger/
Second Half
Fabinho has come on for Keita after his rollercoaster first half. Let's hope this solidifies the defensive half of the Liverpool team.
48′ Atletico have started where they left off. A lovely one-two between De Paul and Carrasco, forcing yet another save from Alisson who is having a great night so far.
51′ RED CARD. This game has been all about him, it's Antoine Griezmann. Personally I don't think it's a red card but it's happened and Liverpool have to take advantage of it. Griezmann has his eyes on the ball as it comes over the top he raises his boot, which is very high and catches Firmino right in the face. While it is just a high boot and no malicious intent, he does absolutely take Firmino out. I can see why it's given, I just hope it doesn't ruin how good of a game this has been.
62′ The first Liverpool subs are on, Jota for Mane and Oxlade-Chamberlain for Milner who is on a yellow. Positive substitutions which will hopefully see us over the line with a win.
78′ Penalty Liverpool!! What a clumsy mistake by Hermoso. The ball is high in the air coming into the box and Hermoso just runs straight into Jota. Massive chance for Salah to make it 3-2. GOAL SALAH. Oblak dives to the right, Salah goes to the left. Massive goal that is for Liverpool's Champion's League run.
78′ There's now a quadruple substitution for Atletico. Suarez, Correa, Lodi and Llorente come on for De Paul, Felix, Hermoso and Lemar. These subs have been sat on the side for a good ten minutes, which if they were made sooner could've stopped the penalty ever happening.
80′ Penalty for Atletico! They have a free kick whipped in and Jota runs into the back of an Atletico player who goes down easily, yet it is a penalty. The Ref goes over to the VAR to make the decision for himself. He's changed his mind!! The only thing I can see is that the ref feels it isn't enough for a penalty, lucky escape for Liverpool there.
84′ Trent Alexander-Arnold makes way for Joe Gomez as Liverpool look to close this game off.
90+1′ 6 Minutes have been added on and Salah has come off for Neco Williams, as Liverpool look to park the bus for the last few minutes.
90+3′ Chance for Atletico, is that their last? Suarez finds Correa on the edge of the box and he cuts right across the ball, leans back and the ball ends up in row Z.
The Referee blows for Full Time and it's finished ATLETICO 2-3 LIVERPOOL. What a game. What a result. A win in Anfield in two weeks time vs Atletico and it guarantees qualification into the next round.