Underrated players make up a large proportion of the league. The big names in the league are well known. They stand out, making the big plays week after week. What the everyday armchair fan may not know are those guys who support the stars. They make plays that are just as important and, sometimes, do much more to sway a game than the flash play.
We have all seen the Quarterback launch a bomb to the star receiver for an 80 yard score. We have seen players track back and make Touchdown saving tackles (DK Metcalf comes to mind for both of the above). This week I want to focus on some of the guys who don't regularly make the headlines, or if they do then it be for the wrong reason. I am only going to focus on 10 in this article although there are many more.
I will say that fans of the teams that these guys play for may well know who they are. These players aren't aimed at you, they're for the rest of the fans who may not know the names. Before you all come at me, I know that I will have likely missed your favourite player who doesn't get the credit he deserves. Who knows, perhaps i'll do part 2.
Keep an eye out in the 2021 season for these guys, they'll be involved far more than you may think they currently are.
Patrick Ricard (DT/E, TE, G, FB – Baltimore Ravens)
Ricard is the best, and possibly the only truly two way player in the league currently. Undrafted in 2017, he made the Ravens team out of Camp and has been a fixture ever since. He was initially utilised as a backup Defensive Tackle/End however quickly developed further.
In training camp he was playing on both Offense and Defence but started the season as a Fullback. His first career reception was for a Touchdown and he has gone on from there. As the years have gone on Ricard has transitioned to cover many positions as a result of his very effective blocking alongside surprisingly good hands for such a large guy.
Last year he stepped in as the official TE3 on a team who often deploy multiple Tight Ends. His blocking became even more important when Nick Boyle went down for the season. The Ravens run a lot, as such they rely heavily on blocking to open up their game plan and Ricard didn't disappoint. Ricard has made the last two Pro-Bowls as a Fullback which is where he spent most time the last two years. His time on Defence reduced as he became more important to the offense.
Marcus Maye (FS – New York Jets)
Someone who was a 2nd round Draft selection and who has just been Franchised Tagged may not sound like an underrated guy. Normally he wouldn't be however on the Jets everyone is disregarded to an extent. I am here to tell you however that without Maye things would be far worse for the Jets.
Maye is a leader on a team without many. He rules the secondary and ensures that those younger players around him know what they're doing. Maye is the best player on the Jets roster and has elevated himself ever since the departure of Jamaal Adams. He has taken a couple of years to mature and develop but he has evolved into a quality starting Free Safety, one of the best in the league. He is also a tackling machine. That he was not a starter immediately and has dealt with injuries makes amassing 266 tackles since he was drafted even more impressive and is further evidence of his quality. Tack on 6 interceptions and 4 forced fumbles and you have a player who would start at the majority of the teams in the league.
Maye finished as the fifth best Safety per Pro Football Focus last year. I fully expect that he will continue this form next year. The Jets are at the start of a rebuild however with a leader in the Secondary they have at least one less concern as they start that journey. This time next year Maye will be much more of a household name.
Cole Beasley (WR – Buffalo Bills)
I love this guy. He is the definition of a hardworking, 'do it for the team' kind of a guy. There won't be man players with this much experience on this list but Beasley deserves his spot. Had he played in New England he would be another Julian Edelman, Wes Welker, Danny Amendola. Beasley though, is criminally underrated.
Not many guys play games with a broken arm. That he did so for the entire AFC Championship game is indicative of his ethos. He is a hyper effective WR3 for whichever team he is on. Last year was his best stats wise with 967 yards. Undrafted in 2012 he almost quit the NFL before his career started when he left training camp for personal reasons. His change of heart was warranted and he went on to start 10 games in his rookie season. He hasn't looked back.
Along with the Patriots trio above, Beasley is what every short slot receiver should aspire to. He has had to fight prejudices regarding his height throughout his career and, toughing it out, has shown just how good he is. Coming back for his 10th season, watch how good his routes are, how open he gets and how easy he makes Josh Allen's life.
Jason Sanders (K – Miami Dolphins)
Being a kicker is not glamorous, that is unless you have just kicked the walk off winner. A 7th rounder in 2018, Sanders was supposed a late round shot on a guy who made 111 of 112 extra points and only 25 of 35 field goal attempts at New Mexico. He allayed any accuracy fears in week one, making 5 of 5 kicks against the Titans in a 27-20 win.
Sanders has made the position his ever since. In a league where kicker is the least stable position Sanders is another Justin Tucker. A reliable, dependable guy who can be trusted with high pressure kicks. The Dolphins obviously do rate him, he has just signed a five year $22m contract. He is now one of the top paid kickers in the league.
It can't be underestimated how important the kicker on a team is. Just ask the Vikings or the Titans after last years lotteries that were Dan Bailey or Steven Gostkowski. There are numerous examples of kickers missing 'easy' kicks and costing a team a season (Blair Walsh, again for the Vikings, immediately springs to mind). Just look here.
Sanders brings trust and a calmness to what is a lottery often. A reliable Kicker should never be underrated.
Cole Holcomb (LB – Washington Football Team)
A rookie doesn't expect to play much in their first season when they are taken 173rd in the Draft. When Reuben Foster went down though Holcomb needed to step up. That he did, far outplaying his 5th round Draft stock and showing flashes of far more.
Stepping into the void at LB for Washington, Holcomb put up 105 tackles, 6 tackles for loss and a sack as he produced a solid season which I expect to act as the precursor to a true breakout sophomore season. Holcomb is not the finished article and his coverage skills need to improve. This was already happening by the end of the season and his speed is enough that longer term this could actually become a strength.
A rookie is often by definition under the radar unless they're 1st round picks. Keep an eye out for Cole Holcomb though, he could be the next Sean Lee. He is a star in the making and one that you all need to keep an eye on.
Elgton Jenkins (G – Green Bay Packers)
From one rookie to another young guy. Jenkins was the Packers 2nd round pick in 2019 and had a fantastic pre-season. Some quarters were calling for him to start Week 1. As it was Jenkins had to wait until Week 3 for his time to shine. What he did following this was more than the Packers could have hoped for.
Jenkins played Centre at college and slid across to Guard upon his arrival in the NFL. Since then Jenkins has developed into one of the leagues top Guards and this year made his first Pro Bowl. Throughout his entire rookie season he didn't allow a sack on 571 pass blocking snaps. He carried this form through to the 2020 season during which he played at four different positions. By 3rd December 2020 (the last date I could find stats for) he had played 1,132 pass blocking snaps. He had allowed 1 sack in that time.
His versatility is the other reason that in 2 years he has become indispensable to the Packers. This year he played 1,183 snaps across 4 positions. He played 3 games at Centre replacing Corey Linsley, one at Right Tackle and covered Left Tackle as well. The majority of snaps came at Left Guard however. This sort of reliability and skill mean that Jenkins is set to become one of the next great Guards in the league.
Darnell Mooney (WR – Chicago Bears)
Mooney was a 5th round pick by the Bears and opened Training Camp at the WR4/5 at best. By the end of camp it was clear however that he deserved a much larger role than his Draft stock indicated. Over the course of the season he was the Bears WR2 and racked up 631 yards and 4 touchdowns in only 9 games. Over a 16 game season that was a 1,121 yard and 7 touchdown pace. This level of skill deserves attention from the opposition and as such will open up space for the receiver on the other side.
This year that looks to be Allen Robinson who will be looking to have a big year as part of his escape from Chicago plans. Mooney, along with fellow sophomore Cole Kmet will be important parts of this. Mooney will find his name probably rises quicker in fantasy circles but keep an eye out in real life as well as he has the potential to be to the Bears what Tyreek Hill is to the Chiefs. Speed kills as well as sure hands and Mooney has both.
Lavonte David (LB – Tampa Bay Buccaneers)
Another player entering Year 10 of his career and another who deserves far more recognition than he gets. This may have been even more true prior to the Bucs Superbowl victory but David has been the heartbeat of the Defence for years now. Playing alongside Devin Bush has only allowed him to push himself more into the spotlight as the team around him improved.
Bucs fans will be well versed in the ways of Lavonte, he is a hard tackling machine, averaging 124 per season along with 2.6 sacks and 2.6 forced fumbles. Arguably David has been the best off the ball linebacker in the league since he was selected in the 2nd round of the 2012 Draft. The arrival of Tom Brady has brought with it a spotlight which has finally allowed David to shine.
If you were given a choice of Luke Kuechly, Lavonte David and Bobby Wagner to pick for your team the chances are David would be your third choice. The stats below show why he is actually the best: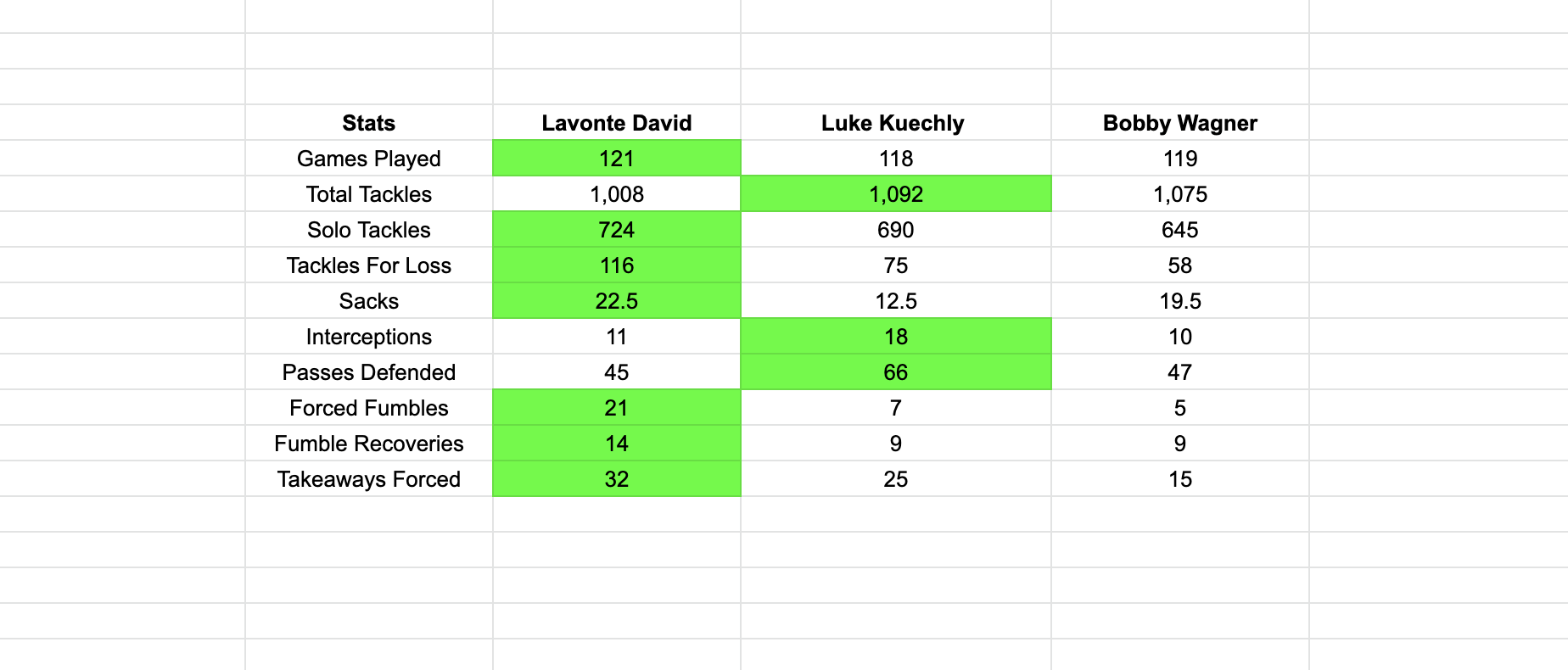 These were up to the 2020 season, a year where he continued his strong play. He is the best linebacker you've ever heard of.
Kyle Juszczyk (FB – San Francisco 49ers)
Another Fullback, I know, not the most fashionable position. Juszczyk however is possibly the best Fullback in the league, a position which is greatly under-appreciated. To armchair fans the fullback only ever stand sin front of the Running Back and blocks a Defensive Lineman. Not flashy and not explosive. What makes Juszczyk stand out is his versatility (a mark of player son this list).
Over the four years from his contract in 2017 he has amassed 102 receptions for 1,080 yards and 7 touchdowns. the next closest has 43 receptions for 399 yards and 4 touchdowns. Juszczyk is a weapon for the 49ers that Defences do not face often. His blocking is fantastic, something that he takes pride in and in short yardage situations he is an extra receiver not often expected by the opposition.
In a league where the Fullback is criminally undervalued, Juszczyk stands out as the best, he adds another wrinkle to the 49ers Offense, one that already has far more than most. Shanahan uses the Fullback more than anyone else, look how effective this is: The 49ers average 5.99 yards per play (2nd in the NFL), 4.49 yards per rush (5th) and 8.65 yards per pass (3rd) when they have two running backs on the field. These numbers drop to 5.45 (20th), 4.26 (23rd) and 6.48 (19th) with one or none. Juszczyk makes this happen.
The Chiefs Left Tackle (and every other LT)
While this seems obvious I feel the need to re-enforce what the Superbowl taught us. Without these guys blocking well the Quarterback has no chance, no matter who they are. When Eric Fisher went down at the end of the AFC championship game there was not much written about it. On the Podcast however I made this the main reason for choosing the Bucs to beat the Chiefs.
I didn't expect to be quite so right about this point of weakness. Watching Mahomes wrack up 497 pre throw/pre sack yards running for his life is what all young players need to be shown. The trenches are not the glamorous position on any team but they are by far the most important. I would say that Left Tackle even outranks a Quarterback.
Teams can overcome one missing Tackle, they can scheme away from it and compensate. Missing two, against a team with a fantastic pass rush, is suicidal. If anyone ever doubts the need to pay a star blindside Tackle that they can then they really needs to sit down and really watch any game of football.
I am sure there are may other players that could have gone in this article however these guys stood out when I reviewed rosters.
Feel free to let me know what you think and anyone else you feel is underrated via Twitter – @UndraftedTN or on Facebook or Instagram.
Return to homepage